What is EyeLevel?
Eye Level is a supplemental education program that originated in Korea over 30 years ago and now has over 2.5 million children enrolled world-wide. We are the leading provider of supplemental education in the areas of Math and English. The official name was recently changed from Enopi, which comes from a Korean word meaning "eye level". Why is it called Eye Level?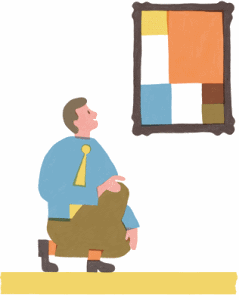 An Eye Level education starts with seeing things from student's eye level
This is a story about a teacher who lowered his height. A man was appreciating the art at the Smithsonian Museum in Washington DC. As he approached each painting he would kneel down and look up at it. A curious visitor asked him why he was looking at the paintings from his knees. He replied, I' am an elementary school teacher and I will bring my students here tomorrow. I was wondering how my students would enjoy the paintings from a student's eye level.
"Eye Level is based on an educational principle where students learn at their own pace. When a teacher understands the learning needs of a student, the teaching is most effective."